HISTORY – the short version (!)
Raphael Callaghan, born in Liverpool, November 21, 1948
Some background noise . . .
Mum and Dad, Olive and Raphael, survived the Bootle Blitz in the Second World War and settled in Seaforth, north Liverpool, in a two-up, two-down terrace. No electricity, no bath, outside toilet. Older brother David, older sister Barbara (R.I.P).
Radio and ''the pictures'' (cinema – dirt cheap then) were main sources of entertainment, for comedy and every kind of popular music.
I hated school, whether infant, junior or secondary and found that listening and singing along to music was a huge help. All the '50s pop and rock 'n' roll, mixed in with Dad's big band 78s and Uncle Bobby's skiffle 78s, paved the way for the Beatles and the whole Merseybeat and beat group movement. This in turn led to the so-called R & B scene which encompassed – according to the Melody Maker, Record Mirror and NME of the time – everything on the Chess label from Chuck Berry and Bo Diddley to Muddy Waters and Sonny Boy Williamson.
And their LPs were in Nems and Beaver Radio - The Best Of Muddy Waters, Down And Out Blues by Sonny Boy and Moanin' In The Moonlight by Howlin' Wolf and you could actually hear a track or two in the booths.
You realise that this music is SPECIAL.
The Enlightenment.
So it's 1964, I'm 14 or 15 but look much younger, gearing up for dreaded O-levels, missing John Lee Hooker and SBW at the Cavern because they'd never let me in! So I try a Saturday afternoon session at another Liverpool basement club, Hope Hall, where Alexis Korner's Blues Inc are playing regularly, and it's a life-changing experience. Blues Inc have a featured vocalist, Herbie Goins, who's great on James Brown and jump-blues numbers. But it's when Alexis takes lead vocal that I hear real, deep blues singing up close and personal for the first time. And his killer guitar. And what's this? Electric double bass! What a sound, what a player. Of course, it's Danny Thompson.
Before the year is out I see the band half a dozen times at Hope Hall, twice at the Cavern, once at the university and become friends, particularly with Alexis and Danny. Then it's Howlin' Wolf with Hubert Sumlin at the Cavern and Big Joe Turner at Reece's Ballroom – and that's IT. The blues has got me and will never let me go.
The record collecting starts and I nearly bankrupt poor Mum for the pocket money to buy them! That Best Of Muddy Waters LP is first, quickly followed by Alexis Korner's Blues Inc At The Cavern and R & B From The Marquee, and EPs on the Jazz Collector label featuring the strange and esoteric music of Blind Lemon Jefferson, Walter Roland, Georgia Slim, Ed Bell, Buddy Boy Hawkins. Who are these people? Got to find out – and so I discover Blues Unlimited, a whole magazine devoted to these characters.
Dad brings home a harmonica from a bloke in work and passes it on to me. It's a Hohner Auto-Valve Harp. I try playing along with Little Walter on the Muddy Waters LP, Cyril Davies with Alexis, and there's a Sonny Terry LP on Topic too. I also work on Keith Relf's insistent harmonica figure on the Yardbirds' I Wish You Would. Best of all, there's an EP with Alexis's name but he's presenting four tracks by Cannon's Jug Stompers from the 1920s, rough-and-tumble homespun blues and hokum but with the sweet and sophisticated sound on licks and riffs that could have been recorded yesterday or tomorrow – it's the harmonica playing of Noah Lewis.
1965. I get together with classmate Martin Lennon on acoustic guitar and I make my first recording on his reel-to-reel recorder, singing In The Evening (from a Jimmy Witherspoon LP) and harmonica/guitar instrumentals M & R Special and Ripley's Blues (from Gus Cannon).
1966 and I'm working in Southport while still living in Seaforth (we've since moved to a three-up, three-down terrace with electricity, a b/w TV and an addition to the family, my sister Julie). I've discovered the amazing music of Bukka White, Robert Johnson, Tommy McClennan, Sleepy John Estes, Blind Willie McTell and Blind Willie Johnson on The Country Blues LP (RBF1). And Lightnin' Hopkins, Georgia White, Oscar Woods, Memphis Minnie, Kokomo Arnold and Peetie Wheatstraw on Out Came The Blues (Ace of Hearts), quickly followed by the stunning Skip James, Son House, Charley Patton and Willie Brown on the OJL reissues. Life will definitely never be the same!
Also that year, told by work colleague, Frank Sellors, about a local singer/12-string guitarist Jim James who is playing at the Formby Folk Club and Bothy Folk Club in Southport. He's doing all kinds of blues, from Skip James and jug band stuff to his own brand of home-made blues songs. Don't be silly, Frank, no-one's doing that kind of deep blues round here. So Frank takes me to the Bothy. Word has got to Jim that I play harmonica and he throws me one as we enter the room. We jam and hit it off straight away. We instantly become a duo, snappily named Jim and Raphael. And we play every week at the Bothy for six years as the club's blues residents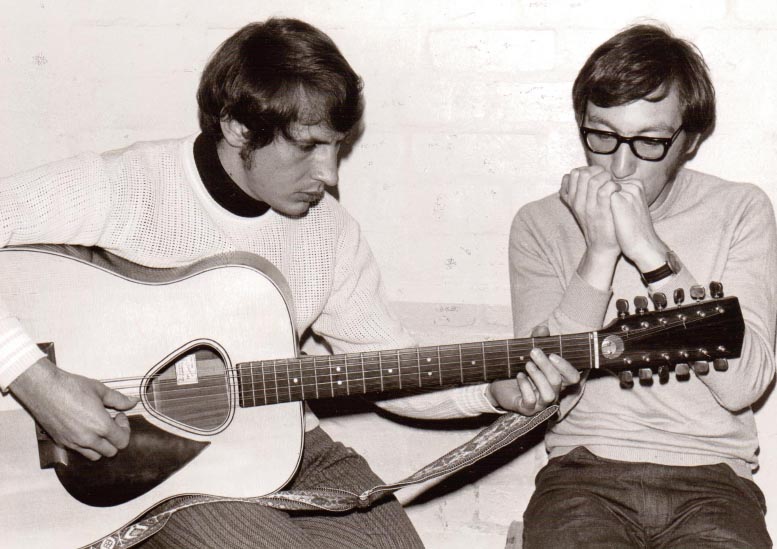 Jim James and Raphael Callaghan - 1969
Jim is, indeed, writing a lot of his own material and it's ''different'', contemporary and melodic, beautifully sung, blues in feel not necessarily form. I have to invent my own style of harmonica playing to provide the appropriate accompaniment. So my riffs and licks are more melodic and are often (I'm pleased to say) exclusive to J & R.
1967 and we audition in Manchester for Johnnie Hamp's Rediffusion TV series First-Timers. We do Devil Got My Woman by Skip James and Jim's own Steam Train. We pass the audition and get to perform Steam Train on TV.
We catch the American Folk Blues Festival tour at Birmingham Town Hall. It features Sonny Terry & Brownie McGhee. And Koko Taylor and Hound Dog Taylor. And Little Walter. Oh, and Son House, Skip James and Bukka White! We help them off stage at the end and walk with them straight into the dressing rooms. Jim has Son House by the arm and I've got Skip James on mine! We talk to them all and get our LPs and tour programme signed. A landmark moment for us.
And I start regular weekend trips to London to catch Alexis Korner's all-night sessions at Les Cousins in Greek Street, where the floor singers include Roy Harper, Al Stewart, Jackson C. Frank, John Martyn and Stefan Grossman.
1969 and Jim and I have done the odd floor spot ourselves at Cousins, Bunjies and the Half Moon. Jo Ann Kelly sees us and – perhaps because we are so different from what she and the other London-based blues people are doing – she loves what we do and recommends us to Tony McPhee, who's putting together a follow-up LP to the well-received Me And The Devil. We record four of Jim's songs at the tiny Central Sound Studios in Denmark Street and they choose two for the resulting LP, I Asked For Water She Gave Me Gasoline, alongside tracks by Jo Ann, Tony, Andy Fernbach Connexion, Graham Hine, John Lewis and Brett Marvin & The Thunderbolts. It's released on Liberty in September, just in time for the 2nd National Blues Convention at London's Conway Hall.
Our tracks are singled out in reviews for their originality and we even get a glowing notice in the purist's bible, Blues Unlimited. Jim and I travel down from Liverpool for the convention and we get to play a laid-back set of mostly Jim's sings at Alexis Korner's Sunday morning guitar workshop. We go down well. This is the first time Alexis has seen us and he's impressed. We get an offer from Liberty to make our own LP – but Alexis persuades us to sign to his newly-formed production company instead, headed up by his American manager Philip Roberge.
1970. In January and March we record 12 tracks at De Lane Lea studios in Holborn with Alexis producing. But despite promises and behind-the-scenes work by Philip and Alexis our tracks never see the light of day. Talk of a support slot to Alexis in Hamburg also come to nought, although we do by this time have BBC radio sessions on the Mike Raven Blues Show, Nightride, John Peel's Sunday Show and Alexis's Blues Is Where You Hear It on the BBC World Service under our belts.
1971. Jim and I become a trio with the addition of Mick Rimmer on bass and we continue gigging on Merseyside and in the north-west under the snappy name Jim Mick & Raphael.
1972 Jim decides to branch out on his own, leaving Mick and I to carry on as a new duo. I'm playing 6 and 12-string guitar too, with some slide, but our forte is songs with just voice, harmonica and bass. Our name? Mick & Raphael of course!
We gig in the north-west and on Merseyside, where we help to run a weekly music night at the Temple Bar in Liverpool city centre with another duo, Rusty – Allan Mayes and Declan MacManus. More of them later . . .
1974. Mick and I call it a day. I get an invitation from singer/songwriter Neil Morton and ace guitar player John Pearson to form a trio, and I come up with the name Breakdown. We're together for 6 years, gigging on Merseyside and in the north-west, opening for Sonny Terry & Brownie McGhee, Telephone Bill and the Smooth Operators, Martin Carthy etc.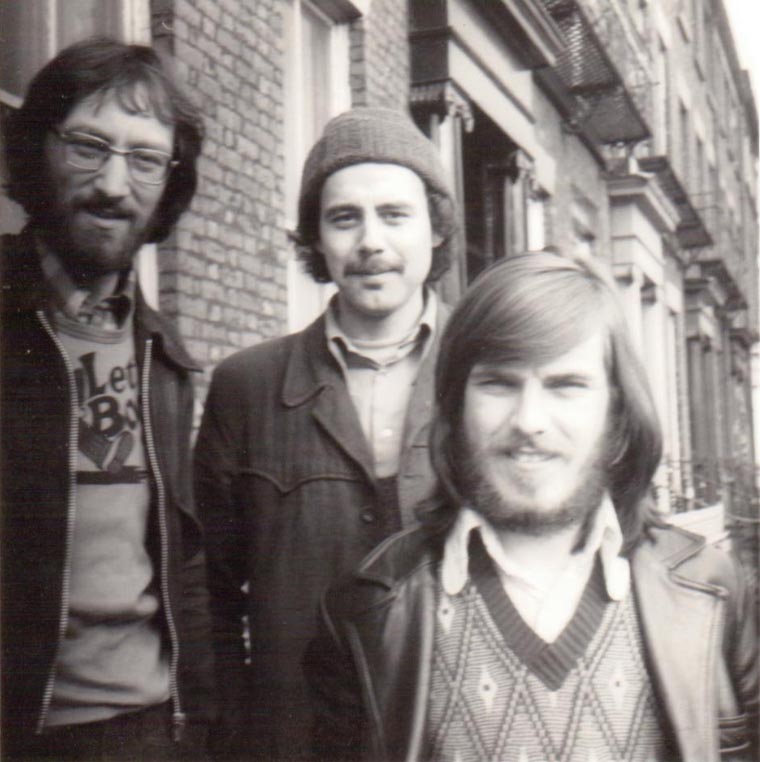 Breakdown trio
Raphael, John and Neil
1977. Breakdown record an LP, Meet Me On The Highway, all our own material (mostly Neil's, three of John's and two of mine). It comes with a meticulous hand-drawn insert and back cover by John. The LP is currently valued at £30 in the Record Collector Rare Record Price guide. And I do have a few copies left . . .
1979. We become a quartet with the addition of George Pearson, John's brother, on bass.
1980. I want to do more singing and more of my own songs so I quit the group in December. That month I go to the Brewery Arts Centre in Kendal to see Alexis and Colin Hodgkinson on bass. They get me up to play harmonica on a few songs and, in the dressing room later, Alexis asks me if I'd be interested in doing a trio album with them. Of course, it comes to nought but the thought was there.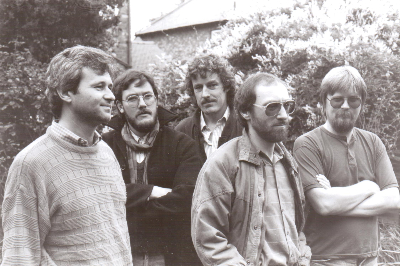 Two Steps Forward - Paul, Charlie,Chris,Raphael,Steve
The '80s. The odd solo gig, writing songs in earnest, then 12 months as singer with jazz-rock group Part One, two years with John Pearson in a stripped-down duo version of Breakdown, 3 years in electric blues-rock band Two Steps Forward and a year or two in the acoustic trio Borderline Case with Tony Gibbons and my old friend Jim James. Also in 1987 make my first trip to Chicago, Mississippi, Memphis and Helena. David Evans introduces me to Michael Leonard in Memphis, and we go on pilgrimages into the Mississippi Delta to see where blues legends Robert Johnson, Son House, Charley Patton etc lived, played - and died. I also get to play harmonica with the great blues singer Jessie Mae Hemphill in Memphis.
The '90s.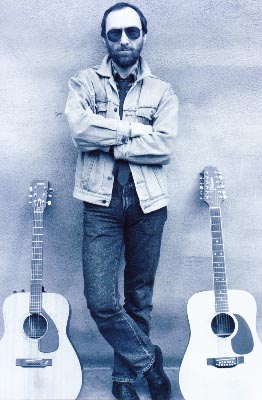 Raphael 1992
A throwaway remark to partner Christine that my ideal musical unit would be me and a bass player.
I go to Holland for the North Sea Jazz Festival and find on my return that Chris has bought herself a 2nd-hand bass guitar!
She'd played folk guitar and recorder for years but this was a different kettle of fish. We put our heads together and come up with a style of bass playing for her that would suit my songs – and Blue C are born.
But not before I enter the first Contemporary Blues Song Of The Year competition at the Great British R & B Festival in Colne – and I win with Someone Else's Blues. One of the judges is Dave Shannon, who was producing the Paul Jones Show on Radio 2 at the time, but I never get a session on the programme. Eternally grateful to Paul, though, for his support over the years in playing our recorded tracks on the show.
For the next 20-plus years Blue C gig at blues and folk venues and festivals all over the country, especially in the north-west. We release a cassette, a CD Swimming Against The Tide which gets a rave review in the top US blues magazine Blues Revue, and we contribute songs to various charity CDs produced every 2 or 3 years by Geoff Parry.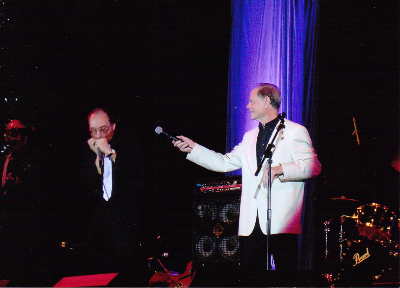 With Johnny Gentle
We run a much-loved blues club at Fort Perch Rock in New Brighton, Wirral, and I also play harmonica in a trio backing Johnny Gentle (the fledgeling Beatles famously backed him on a tour of Scotland in 1960).With Johnny we do Beatles Conventions in Liverpool and Dundee, and also the Eddie Cochran Memorial Weekend in Chippenham where we are on the same bill as Little Richard!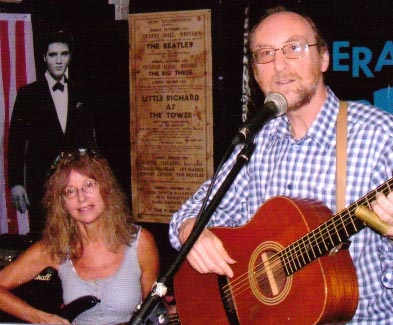 Blue C at Fort Perch Rock
Meanwhile, Blue C open for Honeyboy Edwards, Eric Bibb, Geoff Muldaur, Luther Grosvenor, Nine Below Zero, Geno Washington, Climax Blues Band. I get to play harmonica with Luther, Eric and Geoff and form lasting friendships. I also get to play harmonica with Otis Taylor, Steve Tilston, Wizz Jones and many more. In 2004 I even get to play with the one and only Bonnie Raitt.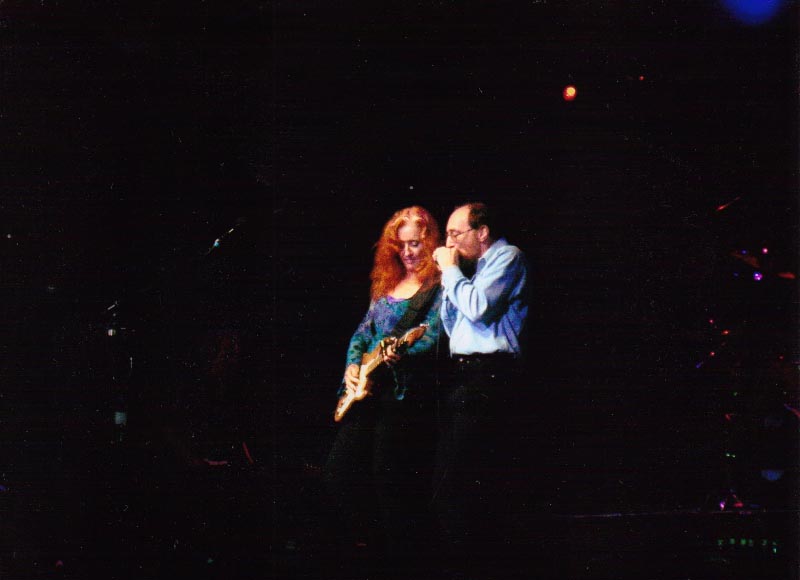 With Bonnie Raitt
Liverpool Summer Pops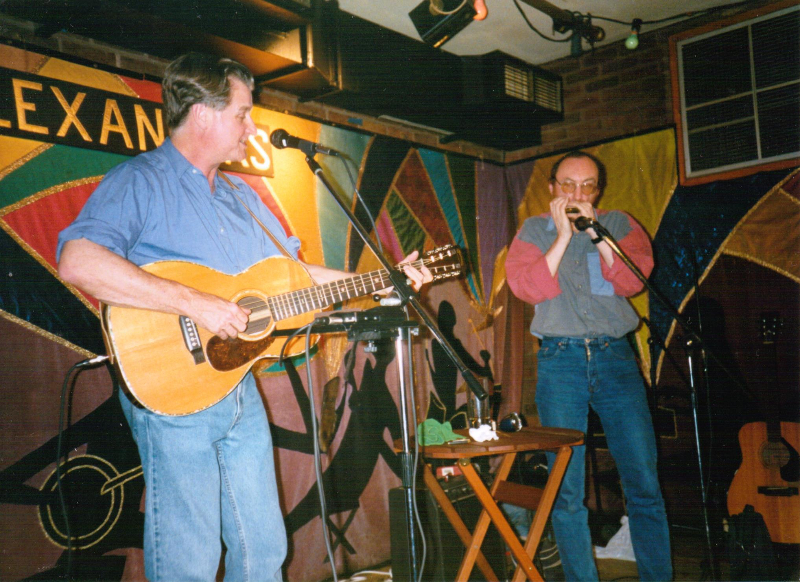 Geoff Muldaur and Raphael
Alexander's Chester
2010 and Christine and I move from Liverpool to North Wales. Chris has to give up playing so once again I re-invent myself as a soloist with my own open-tuning slide accompaniment and harmonica because someone has to sing these songs I seem to keep coming up with!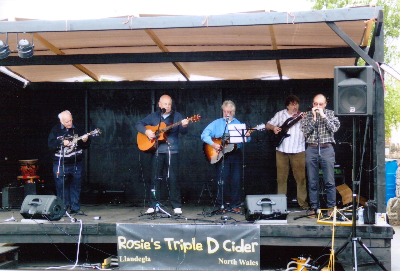 The Tom Dick and Harry Band
2013 I get to play with Bonnie Raitt again and I run my own blues club again for a while, at Engedi Arts in Colwyn Bay. As an offshoot to my own musical endeavours, I also fall in with the Tom Dick & Harry Band as harmonica player and backing vocalist. This 5-piece acoustic band have a wide-ranging repertoire, including Gerry Rafferty's Baker Street and I get to play Raphael Ravenscroft's iconic saxophone riff on harmonica!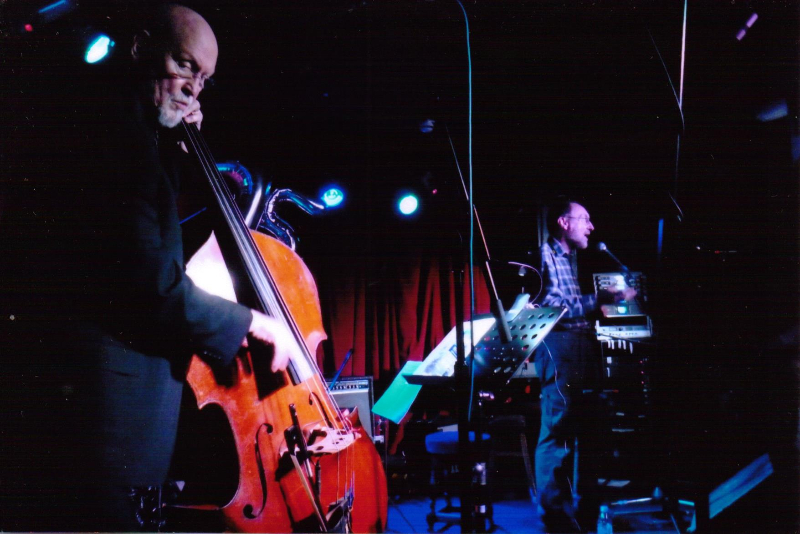 With Danny Thompson
Half Moon 2014
2014. At last I get to play, at the Half Moon in Putney, with my dear friend Danny Thompson for his 75th birthday. The following year I also renew acquaintance (through good friend Allan Mayes) with Declan MacManus and he makes encouraging comments when I present him with an advanced copy of my album.
Thank you, Elvis Costello.
2016. I celebrate my 50th year as a performer with the release of the CD "SAID AND DONE"
And to this day, I still love hearing Blind Lemon, Skip, Son, Bukka, Charley (and Bertha Lee), Willie Brown, Isiah Nettles, Robert Wilkins, Memphis Minnie, Mama and Jimmy Yancey, Ornette, Mingus, Steve Miller, Family, Free, Cream, Bonnie, Muddy, Wolf, Walter, Alexis, Danny, Colin, those Beatles, Rocking Jimmy, Kim Wilson, Mark Hummel, Paul Butterfield.
And Blind Joe Reynolds, Lucille Bogan, Geeshie Wylie, Joe McCoy, Little Brother, Big Walter, Robert, Blind Willie, Junior Parker, Etta, Ann Peebles, Mavis and Roebuck, the Crusaders, Jessie Mae and Jo Ann, Marvin and Stevie, Del, Gene, Roy and Neil, Tracy Nelson, Papa Lightfoot, the Fieldstones, David Lindley, Bobby Rush, Hedy West, the Everlys, Sam Myers, Big Joe, Big Maceo.
And Dusty, Roy Buchanan, Johnny Kidd, the Pirates, Percy Mayfield, Bryn Haworth, Freddy Robinson, Sonny Boy (John Lee) Williamson, Little Richard, Snooks Eaglin, Waylon, Jerry Lee, Bessemer Sunset Four, Norton Buffalo, J B Lenoir, Elvis (both of them!), Johnny Shines, Red Nelson, Lonnie Brooks, Kid Bailey, Brett Marvin and the Thunderbolts, Keith Relf, Charley Booker, Bobby Bland.
And Nic Jones, Tommy McClennan, Sleepy John Estes, the Watersons, Judson Brown, Big John Wrencher, Snooky Prior, Johnny Mars, Archie Fisher, Dock Boggs, Short Stuff Macon, Ishman Bracey, Blind Joe Taggart, Little Feat, Billie Holiday, Ali Farka Toure, Canned Heat, Duster Bennett, Julie London, Lonnie Mack, Medicine Head, Syl Johnson, Charlie Rich, Frankie Lee Sims, Shirley Collins, the Big Three, Boris and the Mingus Big Band – and Noah Lewis. Can't do without them.
This list is by no means definitive or complete. Please revisit for more names – like, where's Ry Cooder, Dick Morrisey, Don Weller, June Tabor, Martin Carthy?
HELP!